Simcom Fuel
Rugged hardware and cloud software built to simplify the complexity of your fuel operations.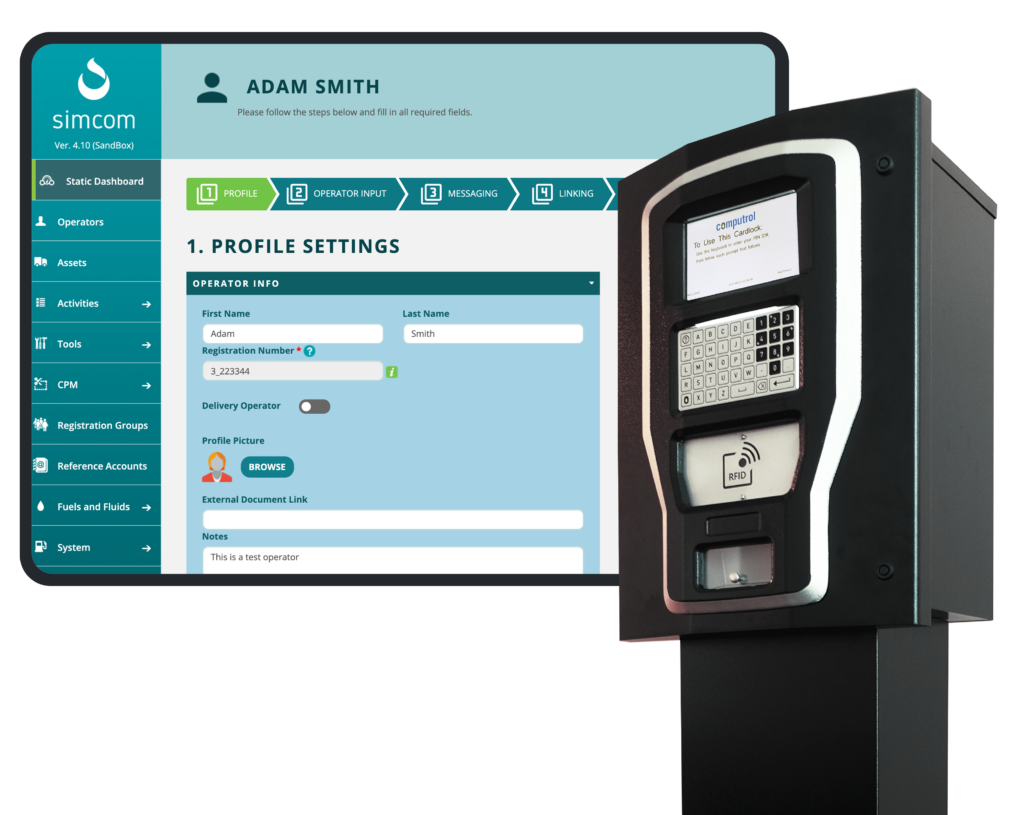 Worry free. Reliable. Rugged.
Global oversight. Local control. Simcom provides you ease of everything experience.
An intuitive user interface, easily shareable real-time data and powerful reporting tools. These are just some of the ways we make your life easier.
Software and hardware designed, developed and fully supported by Computrol. We are here if you need us.
Hosted securely in North America
Hardware Features
Full color configurable LCD
Anodized
alphanumeric keypad
Optional built-in printer
Unlimited Terminals/
locations/sites
Up to 16 hoses per
Terminal
Integrates with TLS
Software Features
Comprehensive
pricing module
Flexible reporting
Management
dashboard
API
Unlimited operator and
asset registrations
Compatible with
C6000's
Simcom Architecture
How we work with you
We understand that our systems are one piece of the fuel management puzzle. With our comprehensive partner network, Computrol ensures that the solutions and services you need are at your fingertips.
Computrol's Support team is there to help you every step of the way.
Don't know any local techs? No problem. Computrol's partner network can provide the installation and maintenance services you need.
There are no hidden costs with Computrol systems. What you see is what you get. Our services are completely optional and are there so you can feel confident that you get the support you need when you need it.
Have a preferred installation provider? Our fuel packages come with installation support as standard. Count on us to make the process as smooth as possible.
You don't like surprises, and neither do we
When choosing a fuel management system, it is critical that you get the solution that best suits your operations. No more, no less.
Our experienced sales team makes the process easy. After a few simple questions, you'll get a proposal that is easy to understand.
Surprises are your enemy. Everything we do is geared towards you feeling comfortable and confident in using Computrol to manage your fueling operations.
"The City of Culver City hired Computrol more than 20 years to provide a comprehensive fuel management system, and they have been exceeding our expectations ever since. Their combination of innovative technologies like Simcom and their commitment to outstanding customer service make them a valuable partner in supporting City operations."
Allison Cohen – Manager, Fleet Services, City of Culver City, California

"Since moving from ProFuel to Simcom, we have enjoyed many benefits as a result of working with a web-based system. The ability for multiple users to log on concurrently and access the data in real time has made a significant impact to our team. And the updated user interface is much more intuitive and modern for users to access their information and navigate through the screens."
Jennifer McLeavy – IS Systems Analyst, City of Port Moody, British Columbia
Other solutions
Smaller operation? Rugged terminals and on-premise software, field-proven at hundreds of sites from the Arctic Circle to sunbaked deserts